Rock hard once again with Zoey Derrick's sizzling hot rock & roll series!
The story picks up as 69 Bottles continues their tour, riding a surge of success thanks to an impromptu duet between Talon and Addison.
It's a crazy turn of life for Addison Beltrand, who's always lived to work and worked to live. Now, everything is shifted upside down—and that's not a bad thing. Stepping on the 69 Bottles tour bus has banished the heartache of her past, and feels like a rocking new beginning.
Talon Carver and Kyle Black couldn't agree more. The band's lead singer and manager are falling hard for the beautiful rock chick, and will do anything to keep her in their bed—and between their bodies—forever.
The trio's blissful bubble is popped by a danger nobody has anticipated. The band's security team, always watchful for fan attacks on the members, isn't prepared for what happens to Addison during this leg of the tour. Will Kyle and Talon be able to help save Addison? Or will her fear force her to pack her bags and return to LA?
Everything hinges on her decision…
Two men. One woman. A rock band. A tour bus. One Wild Ride…
****Content Warning****
Sexy, naked, bisexual rock stars…and a lot more…
This book contains, but is not limited to the following sexual content – reader discretion is advised – hot sex between two men and one woman. M/M/F, M/F/M, M/F, F/M and M/M sexual content. There are no boundaries when these three crash together, as long as you're over 18 years of age.

AMAZON * BARNES & NOBLE * iBOOKS * KOBO * ARe
Craving Talon picks right up where Claiming Addison left off.
Addison is in this delicious relationship with Talon & Tyler, but how does the relationship between Talon & Tyler fit into this. The transition has already moved from best friends to something deeper, but can each of them handle it, how can they define what they have together. Yes, Addison is the center of their world, their happiness and maybe their very next breathe is taken with her in mind. She is after all their baby girl and they spoil her with all the love and devotion they have to give, but how will this work with all three of them.
Addison is taking no prisoners, she wants these men for her very next breathe too, but she is scared. She is also looking at a new career which could change her life forever. Is she ready to commit to this new opportunity and maybe be separated from the two men she loves? Her heart is telling her that she never wants to be without them.
They all come to this relationship with baggage from their past which needs to be worked through. Can the love & support of each other help them through it. This book delves deeper into each character and the emotional impact this relationship has on them.
Now the sex, I have read many books about threesomes, but the sex in this book is not just some hot tryst in a bedroom, it is about love, deep emotions and caring. The sex is erotic, dirty, hot, raw and just so beautiful it will leave you breathless. You pray that they will all be together until their dying day.
If you don't know it by now, yes, I loved this second book and cannot wait for "Redeeming Tyler"! Fantastic story and writing by Zoey Derrick!
Rosie's Book Heaven was given an ARC in exchange for an honest review.
** 69 BOTTLES SERIES **
CLAIMING ADDISON (BOOK 1)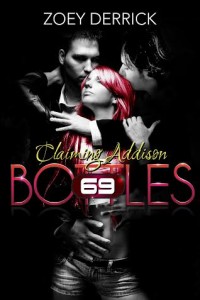 AMAZON * BARNES & NOBLE * iBOOKS * KOBO
PRE-ORDER REDEEMING KYLE (69 BOTTLES #3) RELEASING MARCH 31, 2015
Best Selling Erotic, Paranormal and Contemporary Romance author Zoey Derrick comes from Glendale, Arizona. Zoey, was a mortgage underwriter by day and is now a romance and erotica novelist full-time. She writes stories as hot as the desert sun itself. It is this passion that drips off of her work, bringing excitement to anyone who enjoys a good and sensual love story.
Not only does she aim to take her readers on an erotic dance that lasts the night, it allows her to empty her mind of stories we all wish were true.
 Her stories are hopeful yet true to life, skillfully avoiding melodrama and the unrealistic, bringing her gripping Erotica only closer to the heart of those that dare dipping into it.
The intimacy of her fantasies that she shares with her readers is thrilling and encouraging, climactic yet full of suspense. She is a loving mistress, up for anything, of which any reader is doomed to return to again and again

FACEBOOK * TWITTER * WEBSITE * NEWSLETTER SIGN-UP